Our company is marketing oriented and represents various brands for many international companies.
Salveo is a pharmaceutical company that has been building successful and trusted over-the-counter and prescription brands in Central and Eastern European markets – Croatia, Bosnia and Herzegovina, Serbia, Montenegro, Macedonia, Poland since 2007, adhering to excellence in all business segments.

Our company is marketing oriented and represents various brands for many international companies such as Engelhard Arzneimittel, Merz, Bausch health, Serrix, FW Medical and others.

In cooperation with our partners, we established as many as 21 OTC brands and 7 RX brands.

Our market, estimated at around 62 million people, has recognized our products as trusted when it comes to the health and well-being of individuals and families.

We are proud that we are among top 3 positions in cough and cold, sore throat, cardio, pain, wound and scar treatment categories on the markets where we do business.

In 2020 Salveo generated annual turnover of around EUR 23 million at WHS price and have achieved growth of 57% over the past 3 years.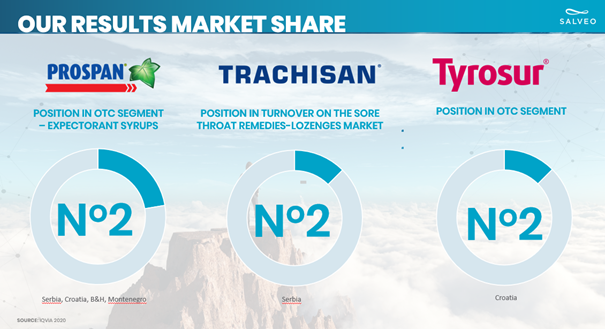 Salveo team is innovative in ideas and use of technologies and reliable in all business segments. We listen to and understand our customers, we respect and acknowledge them, and they know that we can offer them a complete package of quality products and innovative services, which is the reason why they trust us.

Our partners rely on Salveo for the registration, import, and distribution of pharmaceutical products, as well as continuous market research and analysis, product promotion, and marketing and sales support.

They appreciate our market-specific knowledge as well as our company's passion with focus on digital, sales and marketing alignment, and our own digital team.


We are actively looking for product and portfolio development opportunities and new acquisitions and partnerships in Rx and OTC segment.


Collaboration with companies with the same culture and opportunities that align with our growth strategy is our priority.

For all further info feel free to directly contact our Product and Business development manager, Dunja Dean Tončić.
Visit us on our platforms on: Linkedin, Facebook, Instagram and our B2B and B2C websites.

Contact:
Product and Business development manager
Email: d.dtoncic@salveo-pharma.com
Phone: +385 1 5622000